"
The end is totally NOT nigh!
"
—Abe's door
}}
Zomberry Island is the 32nd island on Poptropica. One by one, the citizens of Eastman are getting mutated into something horrible. Now, the city is quarantined, the survivors are trapped, and ghouls prowl the streets. No one knows how the zombie outbreak began... but how it ends is up to you! It takes place in a city known as Eastman,featuring characters mutated into creatures known as "Zomberries".
Promotional Previews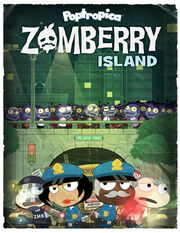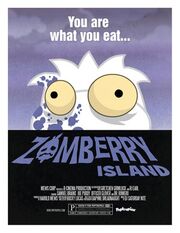 Zomberry Island became quite a popular island before it's release in 2012. Poptropica released two promotional posters(most islands would only have one), both written in a theatrical movie poster style, along with desktop wallpaper. Like all other islands, a trailer was released for Zomberry Island. The storyline was probably created due to the popularity of horror movies featuring undead creatures. However, Zomberry Island is more comical, and probably meant as a spoof.
First 10 Finishers
Gallery
Videos
Trivia
One of the Daily Pop previews shows a restaurant named Wok and a Hard Place, which is based off of the saying, Between a Rock and a Hard Place.
The Gamer Guy has been seen on the wall of the bakery in Ghost Story Island.
The Island is meant as a parody of horror movies, and one of the printable posters was made to look like a theatrical poster.
In the Zomberry Island origin comics, the characters have fingers, necks and shoes, three things real Poptropicans don't have.
In the Cinema, the Common Room, there are a lot of humorous parody horror movie posters. At the top floor you can see "Zombie in Paradise" playing on a continual loop of one scene. Bucky Lucas from Reality TV Island apparently stars in the film.
At one point during the Fort Savini Tunnel course, you'll see a Papa Pete's Pizza delivery truck.
In the gamers apartment, there is a poster that says: "La guerra de las islas!!", which translates from Spanish to "The war in the islands!"
There is a seat that says "Hot Dog Boy was here" in reference to Ned Noodlehead, who likes calling himself "Hot Dog Boy".
This is the first island in Poptropica to have a comic backstory.

Items

Blueberries

|

Bolt Cutters

|

Clue Notebook

|

Camera

|

Car Keys

|

Coffee

|

Dr. Romero's Cell Phone

|

Flashlight

|

Keycard

|

Island Medallion

|

Light Bulb

|

Map to Bunker

|

Medical Gun with Antidote

|

Pamphlet

|

Subway Pass

Locations

Apartment Lobby

|

Chinatown

|

Financial District

|

Fort Savini Tunnel

|

Gamer's Apartment

|

Karaoke Bar

|

Main Street

|

Puddy's Apartment

|

Romero's Apartment

|

Romero's Bunker

| Shady Side |

Shipping Container

|

Smoothie Shop

|

Subway

|

Survivalist's Bunker

|

Wharf

Characters

Abe | Aisha |

Big Blue

| Fred | Dr. G. Romero | Hal | Samuel Brains |

Zomberry

Member Items

Big Blue

|

Safety Flare

|

ZMB Unit

Resources
Written Guide | Map | Tour