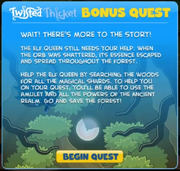 The members-only bonus quest for Twisted Thicket.
Plot Synopsis
Poptropica Members can play a bonus quest after completing Twisted Thicket. The woodland's magical essence has scattered across the land. It's up to you to use your newfound powers to collect the missing shards and return them to their source.
Walkthrough
Put on the Amulet and fly upwards to the third level. Go right and then fly up and enter the hole. Then fly to the top left of the screen while avoiding the thorns and you will find the first shard. Then reenter the tunnel through the "Dryads Only" hole. Fly down and then up through a small passageway. You will arrive in an area with a Trojan Horse-like structure. Run past it and then use troll strength to push the battering ram towards the Trojan Horse-like structure and it will break to pieces. Then push the battering ram into the tunnel. Fly to the top of the screen and hover around there for a bit and the second shard will appear. Go down to the bottom level of the tunnel and use goblin speed to break through the spider web and get through the tunnel. You will appear in an underwater area of the Bioluminescent Bog. Climb up the vine and enter the wooden door. Use goblin speed to run through the ladders. Then fly up to the shard on the ledge. Get back in the tunnel and break through the other spider web with goblin speed. Fly up and a branch will automatically dislodge itself. Enter the secluded area and retrieve the shard. Go back to the tunnel and use troll strength to remove the boulder on the second level. Enter and you will arrive on Troll Hill. Fly up to the top while avoiding the thorns. Push the boulder aside and get the shard. Now return to the Elf Queen and you have completed the bonus quest.