Turtle Shell Toss is a minigame featured on Reality TV Island.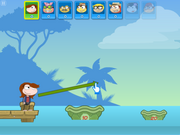 OBJECTIVE:
The objective of the game is to throw coconuts into the turtle shells, trying to score as many points as possible. The people with the lowest scores get eliminated, leaving the person with the highest score safe for the voting. However, if the player and another character are both tied in the highest points, there will be tiebreaker rounds. Toss coconuts into the shells by aiming at the shells with the arrow, then click to throw.
Hint: To win every time, angle your mouse in the middle of the palm tree in the background then click. Your coconut goes in the 20 shell each time.