The Wayside Motel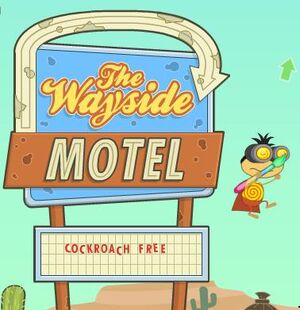 The Wayside Motel is a motel in Reality TV Island.
Bucky Lucas is the main person in the Hotel.
Known Residents
Room 4B - Bucky Lucas
Room 5B - Unknown
Room 6B - Nobody, not for years
Room 3B - Unknown
Room 1B - Unknown
Room 2B - Motel Office
Gallery
Trivia
Although the sign outside says "Cockroach Free", there are numerous cockroaches in the motel. Like the ones on Super Power Island, they can be killed by clicking on them.