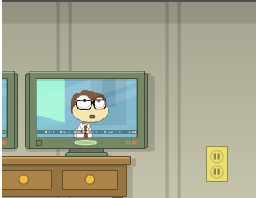 A television, which is more commonly known as a TV, is a device used to watch various shows such as new reports, game shows, and more.
Balloon Boy was featured on the news in the Internet Cafe.
On Shrink Ray Island, you must climb up the antenna of the television to charge yourself with static and use it to stick to a balloon.
There is a flat screen TV in the Hemlock Harbor Tourism Center.
There is a TV Room in the Chocolate Factory where Willy Wonka uses advanced technology to transform 3-dimensional objects into 2-dimensional television images. However, Mike Teavee was excited by this and uses the machine to transport himself into a television. You must then rescue him.
There are various televisions seen throughout Virus Hunter Island including a few at the gym and some in the Green Square Video Rentals outlet.