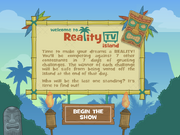 Reality TV Island is a reality game show based on the real-life show Survivor and the Total Drama series. The player must compete with seven opponents to be the hero of the player's hometown.
Description
The entire show is actually on an unknown island. At the beginning and the end of each "day", you will be in a base camp. Each day, for seven days, you will go through 7 different challenges. The challenges are randomized therefore this list is never in order.
Challenges
At the end of the day, you vote on someone to be eliminated. Be the champion at a challenge, and you are safe from being voted on. This is very important when it is down to the final three and two. If you actually win, you get to go back as much as you like.
Competitors
Main article:

Reality TV Competitors
You will have to compete against seven of these competitors per season.