The Jet Pack is an item found on the Main Street of Early Poptropica. It helps you get the flag on top of the water tower, which was presumably stolen from the Pilgrims.
Use

The pack is equippable, serving as a backpack. When you hold your cursor and click above your character, the jet pack will force them upward. A stream of air will pour out from the bottom.
You can only equip the back pack on Early Poptropica, Wild West Island, and two Mini-Islands: Dr. Hare's Secret Lab and Don't Be An Energy Hog. It is only intended for Early Poptropica, however, despite the glitches.
Storyline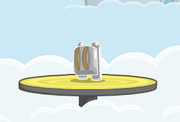 On Early Poptropica, the Jet Pack is found in the Aircraft Graveyard on the far right of the scene. It is laying on a table, and automatically costumizes when you pick it up. It will allow you to reach the flag in two ways:
Exit the clouds from where you came. Walk left until you reach Main Street. When you find the orange water tower, fly to the top. You should find the flag there.
When you re-enter the giant's garden from the graveyard, fly underneath the large green vine instead of going back the way you came. Then, enter the little hole. It will drop you out in front of the flag. Pick up the flag.