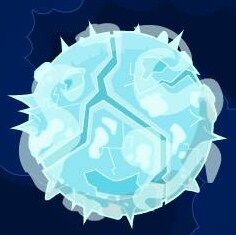 Ice Planet is a planet on Astro-Knights Island. It features icebergs and liquid nitrogen lakes.
Fauna
All of the fauna located on the surface or in the atmosphere of the Ice Planet are robotic, due to the harsh climatic conditions. Here is a list of the known fauna on the Ice Planet:
Space Sharks - Surrounding the planet are three space sharks. They eat anything that gets near them. Somehow Sir Gawain managed to reached the planet's surface without getting eaten.
Robot Piranhas - In the nitrogen lakes, numerous robot piranhas swim around happily.
Tigercopter - The final boss of the planet. During the search for the princess, Sir Gawain was trapped and he failed his mission due to the Tigercopter.
Trivia
From the surface, the Ice Planet appears to have a moon. However, if you fly your rocket around the Ice Planet, you will not find one.
According to your spaceship's computer, the Ice Planet's temperature is -110°F (-79°C).