Jurassic World: Dominion Dominates Fandom Wikis - The Loop
Play Sound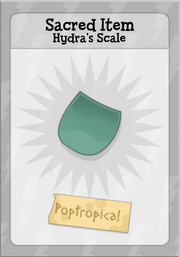 The Hydra's Scale is one of the five sacred items you must get in Mythology Island.
How To Get It
To get the scale, you must first get to the underwater cave in Poseidon's realm. Go all the way to the right of the cave, then go all the way to the bottom, and all the way to the left until you find the Hydra's cave. Don't forget to keep your oxygen levels high, or you will have to restart. Once you get to the cave, you will find the Hydra. When it rears it's head back, jump up and land on it's head when it lunges. Do this five times, each time making another one of the heads unconscious. Make sure you do this quickly, because if you don't go fast enough, the heads will begin to wake back up. When all of the heads are unconscious, go over to the Hydra and click on one of the its heads to get the scale.
I hope this helps!
                                                             Written by: Emma :)

Secret Message
There will be a part of the message on each of the five items.
The Secret Message that comes with the hydra scale is "Poptropica!"
The entire secret message is "Whoever wields the five sacred objects will rule all of Poptropica!" When you bring Zeus, the message will come together. Zeus will steal the five items, giving himself the power to rule all of poptropica.

Written by: Emma :)