| | |
| --- | --- |
| | This article is in need of a better quality photo, so if you can, please help out and put a high quality photo on this page. |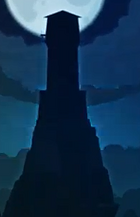 The Erewhon Prison for Super Villains is a prison containing Poptropica's worst villains. It is seen in Super Villain Island. It may be the most high-tech and secure prison in Poptropica. It is also the second largest prison in Poptropica after Harbor Prison in Ghost Story Island. It may have been made and commissioned by Dr. Jupiter. As of now, it is under repair after the events of Super Villain Island. This jail is probably the number one secure prison of every prison in Poptropica.
Erwhon Prison owns a Dream Machine, invented, supposedly, by Dr. Jupiter. It was previously used to hold Binary Bard, Captain Crawfish, Black Widow and Dr. Hare so that you could travel into their dreams and remove their evil totems. However, it was discovered that Dr. Jupiter was Zeus in disguise and was planning on using the powers of the totems to take over the world. In the midst of the chaos, the four villains escaped and Zeus proceeded to destroy much of Poptropica. However, using the power of Poseidon's Trident, you defeat Zeus and he is imprisoned in the Dream Machine.                         
Employee's
Warden: Unknown (Possibly Dr. Jupiter)
Security Guards
Dr. Jupiter (Zeus, formerly)
Prisoners
Totem Victims
Rooms
Gallery
Trivia
"Erewhon" is an anagram of "Nowhere".
Erewhon may be based off of Alcatraz, a maximum security prison located on an island off the coast of San Francisco.
Erewhon may also be a reference to the prison of the same name in the movie, Face/Off.