Jurassic World: Dominion Dominates Fandom Wikis - The Loop
Play Sound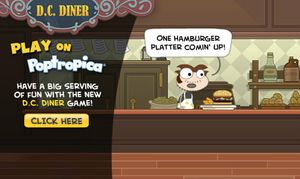 D.C. Diner is the sneak peek game for Mystery Train.
Plot Synthosis
"
D.C. Diner is the craziest, zaniest restaurant you've ever seen. All of the VIP's who are about to board the Mystery Train are stopping in for a bite. It's up to you to serve them all and keep them happy!
"
—Captain Crawfish
Customers
Advice Man
Mark Twain
Mark Twain Fanatic
Chicago Wisher
Gustave Effiel
Suit Man
Prizes
Edison's Lightbulb
Mark Twain's Haircut
Weisz's Hat
The Effiel Tower Hat
The Tesla Coil
Upgrades
Fast Drinks
Large Serving Tray
Busboy
Fast Cook
The Creator's Tips & Tricks
Keep moving: Don't just stand there waiting for your cook to fill an order. Head back to the table and see if another customer has a new order. Every second you're standing still is a second wasted.
Stand in the right spot: You can fill up drinks and bus dishes without having to stand next to the soda fountains or the dish bin. But you do need to stand right in front of the chef in order to place a dinner order. Try filling up drinks from across the screen, or busing dishes while you place multiple orders with the cook.
Choose your upgrades carefully: The Hostess is a big help, but you probably don't need her in the earlier stages, when only a few customers at a time can fit at the table. But fast drinks—that'll shave seconds off your time from the start.
Take calculated risks: Every customer will always order a drink first. Then they will order either the chicken or the burger. Knowing this, you can take some calculated risks. Keep an extra soda or root beer on your tray. Get the chef cooking a burger and a chicken before anybody has ordered their dinner. You might end up needing to dump something in the trash, but when these risks pay off, you'll save lot's of time.