| | | |
| --- | --- | --- |
|   | BETA Carrotene | |

Released
2013
}}
BETA Carrotene is a new and improved version of 24 Carrot Island. It was made by the Poptropica Creators to test new features coming soon to Poptropica.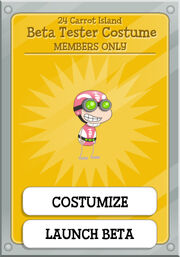 The Creators gave members a special costume which allowed them to play 24 Carrot Island with a full soundtrack, a bigger screen, and better navigation so that they could test the features that would be coming out for everyone soon. The Beta Carrotene is currently the basis for Virus Hunter Island minus a few of the Beta Carrotene features like the common room cursor. It has a medallion.
Trivia
In Green Square Video Rental on Virus Hunter Island there is an cardboard cutout ad for a movie called Attack Of The Zombie Carrots on BETA, which may be a reference to 24 Carrot BETA Carrotene.
The island can no longer be played.
If you have the medallion, it says: "24 Carrot Island" completed.
In the files, it's a completely separate island from the 24 Carrot island SUI, being named "Test" island.
The medallion for island could only be obtained for a limited time, and some people never got, even after meeting the credentials.